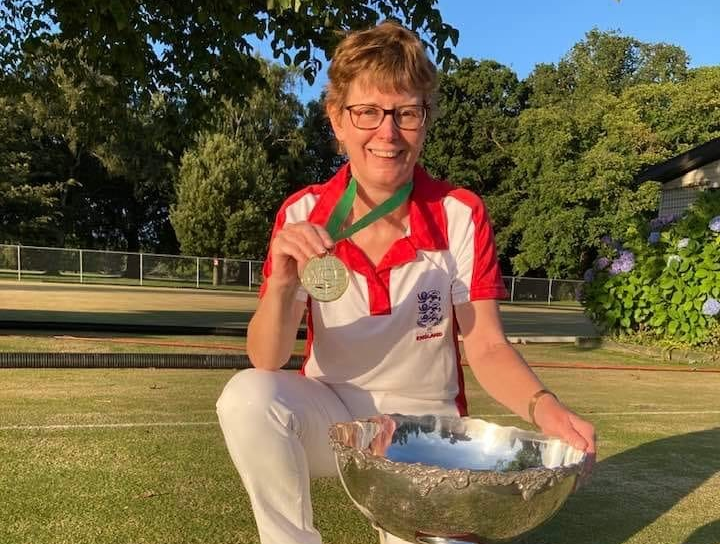 Debbie has been playing croquet since she was six years old. Every year the family would go on holiday to a hotel in Cromer and play an American rules tournament that was taken very seriously. Then, in 1985 the family entered the Hunstanton week and discovered the delights of association croquet.
In the next 10 years Debbie developed her skills, her first TP was in 1987 and she won the Spencer Ell in 1988. She went on to play in the Chairmans and Presidents Cup, the Solomon Trophy, came second at the Sonoma Cutrer World Championships and has also twice been USCA American rules doubles champion. Her best year was 1995 when she was a Quarter Finalist in the 1995 World Championships in France, lost to Reg Bamford in the semi-final of the British Opens and beat David Maugham to win the North of England Championships. These achievements were enough for her to be selected to represent Great Britain in the GB team that won the 1996 MacRobertson Shield.
Debbie rested from the game in the late 90's and early 0's, but returned in 2008. She continues to enjoy playing advanced croquet, still has occasional TP's and even managed her first sextuple in 2014. Debbie manages the Nottingham Advanced weekend in September and as soon as work commitments allow would like to spend some time on council.
Debbie is now living in Lincolnshire with husband Ian Lines. Previously a senior manager with Interflora, she semi-retired in 2019, now working just part-time in a local community role.
Debbie is currently Secretary-General for the WCF and Secretary of Peterborough Croquet Club.