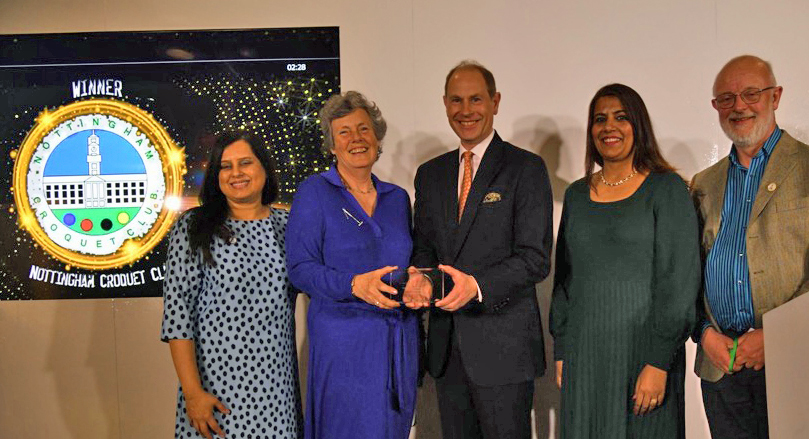 Nottingham Croquet Club wins National Inclusion and Diversity award
HRH The Earl of Wessex, President of the Sport and Recreation Alliance (SRA), presented Nottingham Croquet Club with the prestigious Inclusion and Diversity Award at its annual celebration of grassroots sport on Thursday 24th March.
For more than 25 years the SRA has been celebrating achievement in sport but this is the first time that the sport of croquet has been nominated. In a high quality final, impressive projects by British Cycling and Para Dance UK were judged alongside Nottingham Coquet Club's vision of 'Croquet for All'.
Samir Patel, Chair of The Croquet Association said:
"We have been trying to shake off the Victorian image of Croquet for 100 years. Nottingham Croquet Club's volunteers have worked hard to include all sections of the community and being recognised with this Diversity and Inclusion Award, is a real boost to them and to our sport"
Croquet is a game of skill and strategy but it is easily adapted to suit differing needs. The club's 'Hoops for Health' programme was introduced in response to the pandemic, when croquet was one of the very first sports to be permitted following the first lockdown. Working with community organisations around the City, people recovering from organ transplants and those with long-term health conditions, anxiety, social isolation, and other mental health conditions were invited to Nottingham Croquet Club. In the beautiful surroundings of Highfields Park they were gently coached in the skills of the game.
A school's outreach programme at four City primary schools has introduced croquet to hundreds of 9 and 10 year olds. Playing an exciting version of the game called Pirates, where treasure is collected and stolen, the essential skills of hitting a ball accurately, running it through hoops and even developing a strategy are quickly learned.
Promoting a 'This Girl Can' event through local Asian radio stations gave many Asian and Muslim women and girls the chance to learn the basics of the sport from some of the country's top female players.
Ferzana Shan, presenter on Radio Dawn said:
"This generated a lot of interest in a sport about which very little is known within the Asian Community. We had many Asian men saying 'Hey, what about us, we want to play?"
A short video can be viewed here from the awards ceremony
In response to this news Lilian Greenwood, the Labour MP for Nottingham South, said:
"Great news and very well deserved. Congratulations to everyone at the Club."