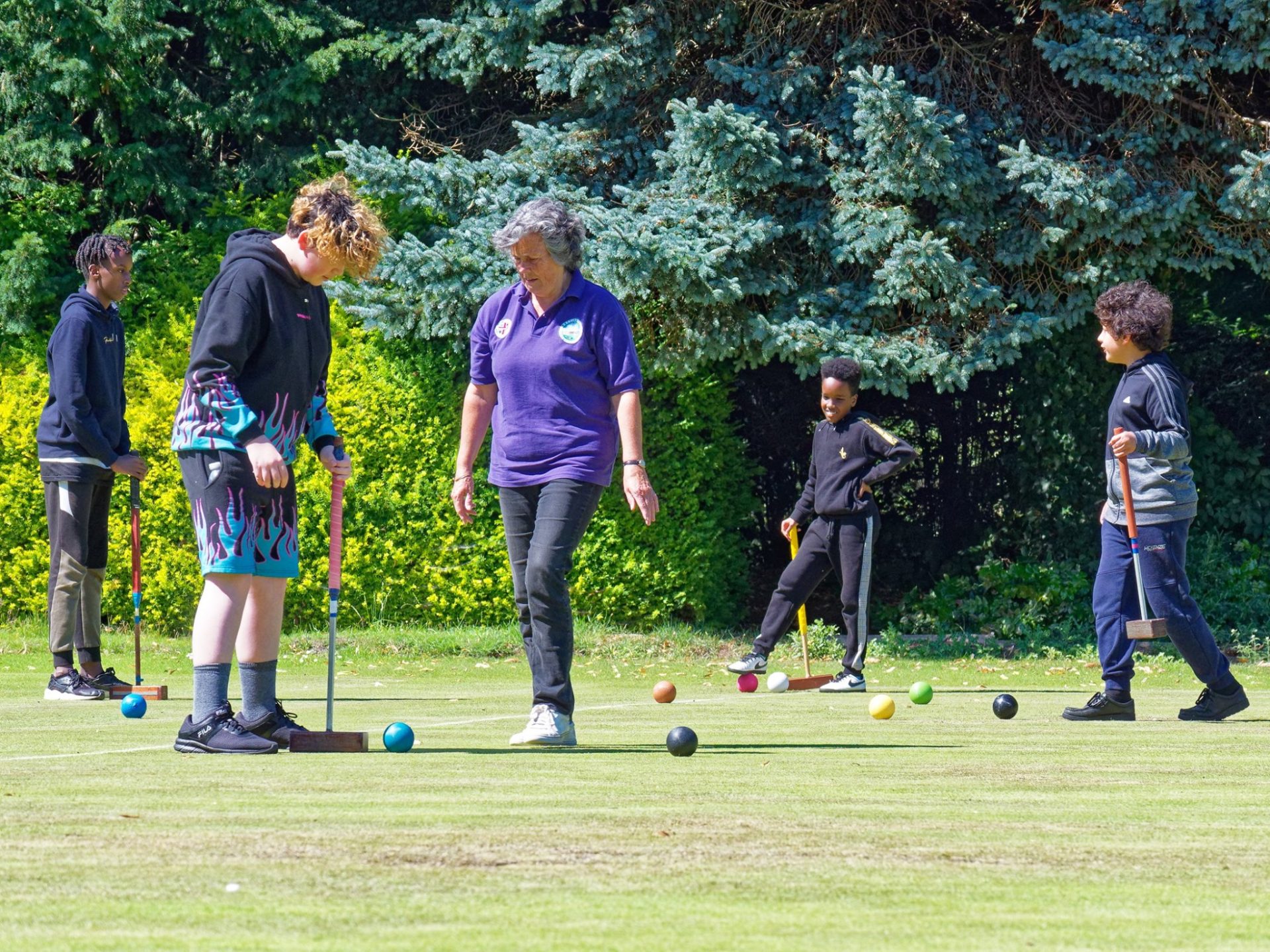 National Croquet Week Begins Saturday 20th May 2023
In partnership with The British Heart Foundation, Open Days will be running at Croquet Clubs all around the country for the public to come and have a try.
Having launched our new Garden Croquet Membership we hope that the event will be enjoyed by players of all ages and abilities.
The week culminates in the Association Croquet Inter-Counties tournament on the south coast and in the build up to that we will be nationally calling on the public to back a county.
Find and follow your County Croquet Team
The current team lists as listed per the CA website
Division 1
Berkshire
Joe King (C), Robin Brown, Richard Huxley, Andy Myers, Mark Ormerod, Joel Taylor
Essex
Rich Waterman (C), Tim Brewer, Andrew Dutton, Robert Fulford, Jonathan Hills, Debbie Lines, Aston Wade, Jack Wicks
Hertfordshire
Simon Hathrell (C), Will Gee, David Marsh, Alison Maugham, David Maugham, Richard M Smith
Lancashire
Paul Rigge (C), Neil Adams, Bob Burnett, Lorna Dewar, Rick Harding, James Hawkins, Ailsa Lines, Annabel McDiarmid,
Middlesex
Nick Parish (C), Gavin Carter, Eugene Chang, Tom Coles, Harry Fisher, Gabrielle Higgins, Ian Lines, Jose Riva
Nottinghamshire
Richard White (C), Keith Aiton, Euan Burridge, James Death, Dave Gunn, Omied Hallam, Sanaa Hallam, Patrick Hort
Oxfordshire
Dayal Gunasekera (C), Raouf Allim, Jenny Clarke, Martin Lester, Sophie McGlen, Chris Roberts, Jordan Waters, Stephen Wright
Somerset
David Goacher (C), Kristian Chambers, Ed Duckworth, Marcus Evans, James Galpin, Roger Tribe
Surrey
Samir Patel (C), Jamie Burch, Jeff Dawson, Andy Dibben, George Noble, Chris O'Byrne, Duncan Reeve, Tim Russell, Tim Wilkins
Sussex
Roger Wood (C), Paul Castell, Alan Cottle, Phil Dunk, Mark Fawcett, Clive Hayton, Craig Oakley, Chris Rolph, Ian Vincent
Yorkshire
John Davis (C), Rod Ashwell, Robert Essler, Callum Johnson, Mike Town, David Warhurst, Robert Wilkinson
Division 2
Cheshire
Simon Jenkins (C), Charles Harding, Nick Harvey, Nigel Matthews, Alex McIntyre, Brian Medley, David Mooney
Dorset
Jonathan Powe (C), Anthony Dix, David Fuller, David Kendrick, David Williams, David Marcus*
Glamorgan
Chris Williams (C), John Bowcott, Dave Evans, Tudor Jenkins, Angharrad Walters, Robert Essler*, Liz Farrow*, Nigel Polhill*
Gloucestershire
Dave Kibble (C), Louise Bradforth, Craig Edwards, Martin Murray, Wayne Wiseman, Wendy Wu
Kent
Robert Alexander (C), Pierre Beaudry, John Daniels, Jon Diamond, Brian Havill, Philip Mann, Chris Martin, Tobi Savage
Norfolk/Lincolnshire
Jonathan Toye ( C), Sarah Barley, Peter Hanley, Gordon Mills, Charles Ostler, John Reddish
Suffolk
Philip Eardley (C), Mark Avery, Paul Hetherington, Martin Leach, Anthony Miller, Lewis Palmer, Albie Willett
Warwickshire
Ken Jones (C), Neal Bacon, Cliff Daniel, Andrew Gregory, Adrian Morris, Peter Payne, Ian Slater, Roger Tedstone
Wiltshire
Andrew Willis (C), Richard Dickson, John Grimshaw, Roger Hayes, Jonathan Lacey, Beatrice McGlen, Andy Smith, Harvey Smith
* – players are not qualified to play for the county, but are allowed to compete to make up the numbers.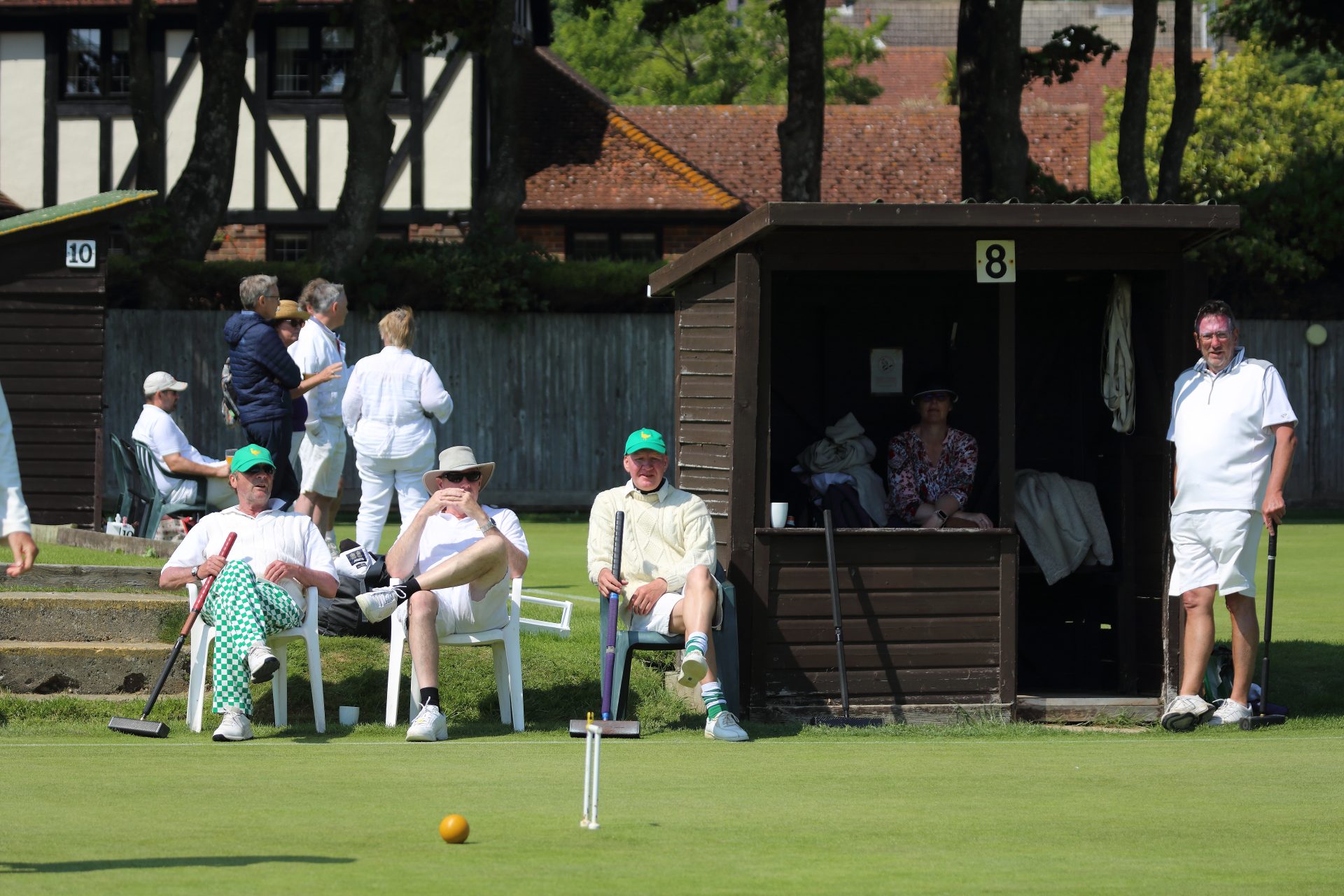 Events happening near you
Here are a few events which are happening around the country.  Croquet clubs are opening their doors and asking the public to come along and have a try.
Bury Croquet Club – Lancashire
At Bury Croquet Club we will be holding our annual National Croquet Week Open Day on Saturday 27th May 2023 at Whitehead Park Bury from 11am to 4pm at which we are also celebrating 35 years of croquet in Bury.
There will be stalls, tombola, refreshments, children's mallet games and visitors will have the opportunity to try playing.
The event will be opened by the recently appointed Mayor of Bury, Cllr. Sandra Walmsley. Local councillors and Bury North MP James Daly have also been invited.
Watford – Hertfordshire
At Watford we're holding an open day 2pm-4pm on 28th May. https://www.facebook.com/events/1508632039674910/
Frinton – Essex
At Frinton we're holding Croquet taster sessions and demonstration as part of the Open Day of the Frinton-on-Sea Lawn Tennis (and Croquet) club. https://fosltc.com/event/frinton-on-sea-lawn-tennis-club-open-day-2
Ipswich – Suffolk
Ipswich Croquet Club is planning an open day event to pay and play on 20th May, in aid of BHF in National Croquet week May 20th 2023.
https://www.ipswichcroquetclub.com/
Tyneside – Tyne & Weir
Open day 11.00 to 15.00; May 21st as part of the Jesmond Festival.
York – Yorkshire
York CC has anticipated National Croquet Week with two free Try Croquet drop-in afternoons, on Saturday 29 April and Sunday 7 May, and will follow it up with an Introduction to Association Croquet course of four Wednesday evenings starting 31 May.
Guildford and Godalming – Surrey
As part of national croquet week, Guildford and Godalming Croquet Club will be holding a free taster session on Sunday 14 May. We acknowledge it is early, however we had already had tournaments scheduled at the club for the next 2 weekends.
https://guildfordandgodalmingcroquetclub.co.uk/
Kenilworth Croquet Club – Warwickshire
In our own club in Kenilworth we will be organising an Open Day to be held on Sunday 21st May. We have invited a number of local clubs and organisations to come along between 12:00pm to 6:00pm and try out the game, including U3A, British Legion, 41 Club, Probus No2, Senior Citizens, Lions & others. We hope to provide refreshments for the guests. The day will also be open for individuals, friends and families who would like to try their hand at our sport. We will be looking for a number of volunteers to help on the day, with setting up, running and clearing away at the end of the day.
https://www.ktscc.co.uk/croquet/
Edgbaston Croquet Club – Warwichshire
Edgbaston Croquet Club is starting an initiative aimed at people in early retirement looking for a new activity.
Outside of our normal club sessions, we are holding three Saturday morning "pay and play" events, the first on Saturday 20th May to coincide with the launch of National Croquet Week. Anything you can do to give us wider publicity would be most welcome. It is aimed at people completely new to croquet (which very few people have even heard about in the West Midlands!), with no obligation to join our club – rather just to spread the word.
The second and third similar events are scheduled for 24th June and 22nd July.
We have also just produced a new poster advertising the club which is being emailed to all our members to print and display wherever they can. I'm attaching a copy. Hopefully this will direct people to our website, on which we are now promoting the three Saturday events.