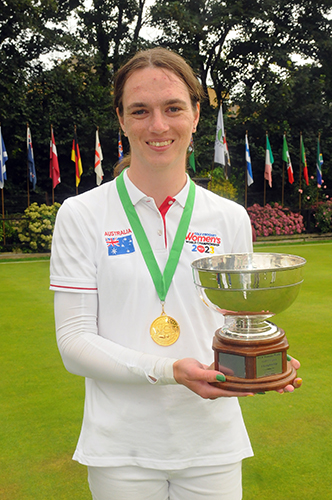 Jamie Gumbrell won the 7th Women's Golf Croquet World Championship
The Women's Golf Croquet World Championship 2023 was held at the Sussex Country Croquet Club in Southwick.  56 Women from 16 different countries competed in the event over the 8 day tournament.  Jamie Gumbrell from Australia won the final against England's Rachel Gee in four games, winning 3-1.
Dame Mary Berry Opens the Championship
To signify the opening of the Golf Croquet Women's World Championship 2023, Dame Mary Berry cut a cake made by a local Sussex County Croquet Club player Peter Goldsmith.  In her encouraging speeches she wished all the players good luck and admitted that although she thought her croquet was not up to the same standards, both herself and her husband "Love it".
After being introduced to Croquet at her home club Phyllis Court Croquet Club, Mary's was delighted to announce that her club coach, Helena Janson, is playing in this Championship.  Both Mary and Helena were presented a bouquet of flowers by Sussex County's youngest member, Imogen Perry.