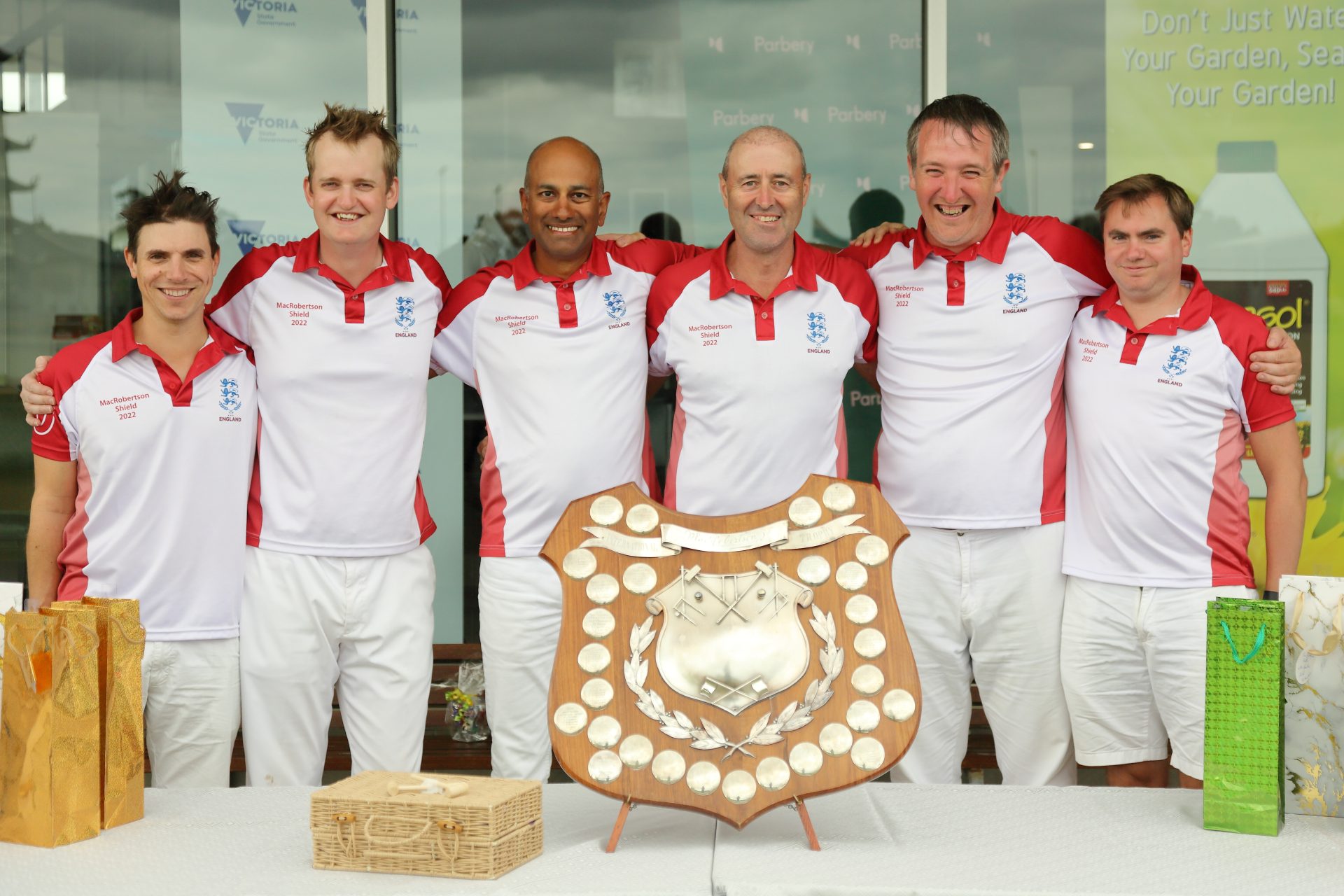 England Win the Association Croquet World Cup
The England team put up a fantastic performance in Australia to triumph in the MacRobertson Shield winning all three tests against the other nations. The final day of play was when the trophy was decided though at that stage the England team needed just one win from the remaining six matches this was duly delivered by Mark Avery.
The two unbeaten teams took to the courts in a test that all anticipated would be nip and tuck all the way to the finish. Indeed, after the first two rounds of doubles the teams were tied at three apiece. But this all changed in the first round of singles where England pulled off a stunning five to one result. The final round of doubles saw England extend their lead winning two to one setting up a final day needing just one win from the six matches which they duly achieved England winning the test 13 to eight to bring croquet back home.
Mark Avery and Jamie Burch won nine out of nine doubles matches by a staggering 18 games to two only the fourth undefeated pair in the history of the Shield. Jamie Burch also distinguished himself in the singles winning all six matches whilst Mark Avery and Christian Carter each only lost one game of singles. But the key to success was whenever the chips were down or the pressure on the team all stood up to be counted and delivered the world championship for England well done to Samir Patel (captain), Mark Avery, Jamie Burch, Christian Carter, James Death and Harry Fisher the winning team.
The first round saw England playing the United States, wrapping up a comprehensive victory, passing the 11-match margin with a day to spare running out 16 to five winners. attached
In round two England faced New Zealand in a match where fortunes swung throughout. England built a two-point lead from the first two rounds of doubles only for New Zealand to grab a five to one victory in the first round of singles opening their own two-point lead. The third round of doubles saw England pull back to seven to eight down meaning England needed to win four from the final six singles matches. It was at this point that England Captain, Samir Patel, showed the real grit and character that would propel England to the title, the test was locked at 10 all and his match at one game apiece when he pegged out to win and give England the all-important 11th match point that saw them to victory. In this round England managed nine triple peels.